Riso SF5230 High-Speed Digital Duplicator/Fully Automatic Printer
Actual Stock Can Be Confirmed After Placing the Order.
All Delivery times are estimated based on the official restrictions.
Riso SF5230 High-Speed Digital Duplicator With Print Speed Up To 130 ppm In B4 Paper Format.
Performance that exceeds your expectations. RISO SF5230 is a high-speed digital master-making/fully automatic printer that offers outstanding productivity through super-flash speed and low cost.
High-speed 130 ppm printing
Achieving 1000 pages printed in approx. 8 minutes. This surprisingly rapid rate will efficiently support your heavy paperwork requirements.
Quick Master Making mode
A new function, speed priority mode, shortens the master-making time while still maintaining high image quality.
Paper saving
Page layout printing combines multiple copies of the same page, or copies of multiple pages onto a single printed page to save paper. Conveniently condense bulky multiple-page documents in an easy-to-read format. These functions are available when using the printer driver.
Heavy-load paper feeding
The paper trays have a capacity of 1000 sheets* for both feeding and receiving, which ensures uninterrupted printing over a longer period.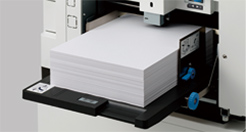 Versatile paper handling capability
The SF series plays multiple roles, accepting a wide range of paper types such as recycled paper, coarse paper, cards and envelopes.
Easy-to-use LCD panel
The information on the 128 × 64 dot LCD panel can be easily viewed, and it also shows the residual capacity of supplies to prevent an out-of-stock situation occurring.
Versatile program print
For example, you can print question papers for three different classes, A, B and C, that contain different numbers of students. Simply set up the program, place the three original tests in the Auto Document Feeder and press "print" — you'll automatically receive the required numbers of each individual test.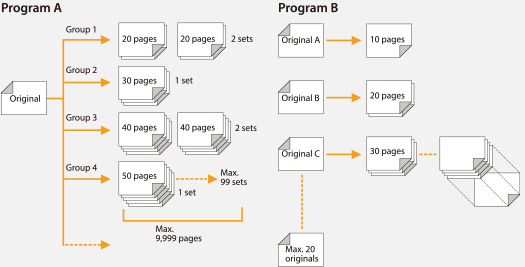 Enhanced features for clearer output
The newly designed scanner attains smooth tonal gradation even with photo images.
• Reduced blown-out highlights via equalized dot description
Improved image-processing function
Decreases image deterioration through improved image processing, delivering clearer output.
• Minimizes blocked-up shadows through enhanced gamma correction
• Sharp outlines with contour enhancement achieved
The SF series consumes 1/10th the energy, compared with energy star guidelines.

• ENERGY STAR ® qualified and RoHS certified
• Complies with the ErP directive in Europ
Rice bran oil ink
The rice bran oil ink contributes to environment sustainability. Rice bran, which would be otherwise wasted, is a raw material with no VOCs, so after the oil is extracted for the ink. It can subsequently be used as fertilizer or animal feed.
More Information

| | |
| --- | --- |
| Product Name | Riso SF5230 High-Speed Digital Duplicator/Fully Automatic Printer |
| Print Speed (Mono) | 5 levels: 60, 80, 100, 120 and 130 ppm |
| Wireless | No |
| Duplex | No |
| Fax | No |
| Scan Resolution | 600dpi |
| Paper Size | B4 |
| Copier | Yes |
| Color Printer | Yes |
| Dimension | 1415 x 670 x 1065 mm |
| Weight | 100.00 |
| Manufacturer | Riso |
| Country of Origin | United Arab Emirates |
Compare Products
You have no items to compare.